PRODUCT INFORMATION
Business Pricing
Specs
CUSTOMER REVIEWS
PRODUCT INFORMATION
Ultra-thin laptops and 2-in-1 convertibles like the Microsoft Surface Pro offer great mobile productivity and sleek good looks. But that also means they usually come up short on connectivity ports. As a result, you're constantly plugging and unplugging peripherals. That's where the SD3500v USB 3.0 Universal Docking Station comes in. It turns one USB port into six so you have access to all your peripherals, including keyboard, mouse, printer and external hard drive. And with dual HD video output, you can add two external monitors to boost productivity. The dock's two USB 3.0 ports support super-speed data transfer of up to 5 Gbps.


Best for: USB 3.0 laptops, ultrabooks, and monitors that support up to 2K
Connection technology: USB 3.0 (DisplayLink)
Compatibility: Windows 7 or above, macOS 10.14
# of monitors supported: 2
Video ports: 1 x HDMI v1.2 and 1 x DVI-I (DVI-to-VGA and DVI-to-HDMI supported with included adapters)
Maximum resolution supported: single monitor: 1920 x 1200 @ 60Hz and dual monitors: 2048 x 1152 @ 60Hz
Plug & play: DisplayLink driver installation required
System requirements: USB 3.0 (Type-A) laptops
Warranty: 2 years
Connect two additional screens with 1 DVI Out & 1 HDMI Out
Expand your workspace by adding additional monitors. Connect your DVI monitor to the DVI port or use the included DVI>VGA adapter to connect your VGA monitor. If you've got an HDMI monitor, you can connect directly into the HDMI out port. You can also connect a second HDMI monitor to the DVI port using the included DVI>HDMI adapter. You can run both the DVI and HDMI ports simultaneously.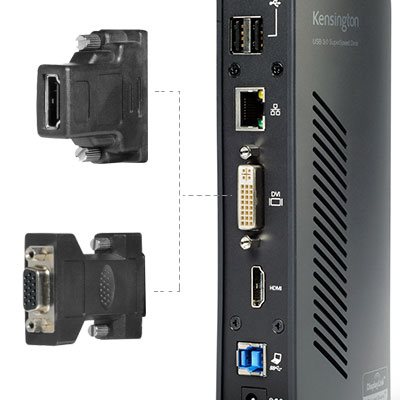 Extend Mode
Extend your workspace by making it bigger. Extend mode allows you to share your whole desktop across multiple screens. Ideal for improved productivity by working with, and viewing, multiple applications at the same time.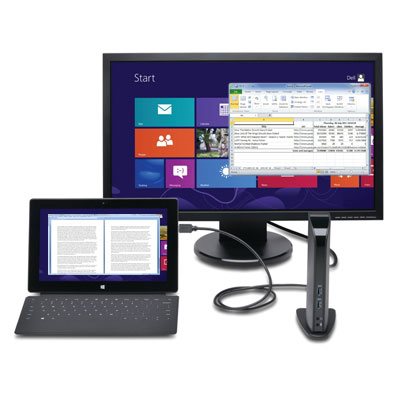 Clone Mode
Allows you to replicate the same content on your second display as you do on your master display.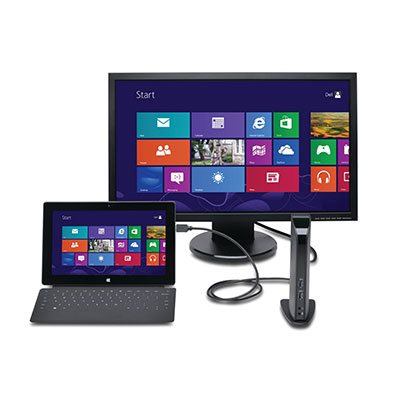 2 Front USB 3.0 Ports
Two fast and powerful USB 3.0 ports are positioned on the front of the dock for when you want to charge a phone or tablet, or transfer data from another device. Headphone and microphone input ports are also conveniently within reach when they're needed.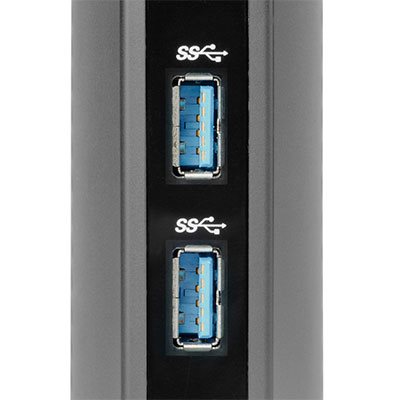 4 Rear USB 2.0 Ports
Connect all your peripherals with 4 USB ports. These ports are strategically located on the back of the docking station to help keep your printer, keyboard and mice cables or wireless dongles hidden from view.
Display Settings Software
Our intuitive display management console sits on your applications bar and allows you to easily switch between display modes, change the master monitor or adjust alignment and position of your screens. Our corporate install support provides for mass installation via the Microsoft® server.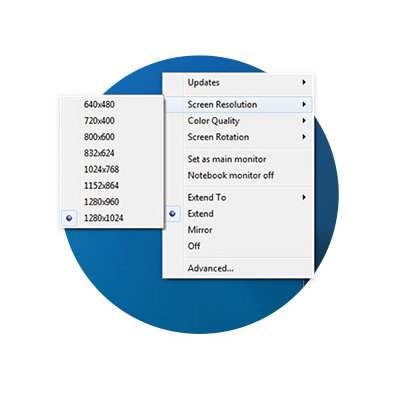 Add more screens
You can hook up even more monitors using a multi-display adapter, which is available separately. These connect into one of the six USB ports and can be used with DVI or VGA monitors.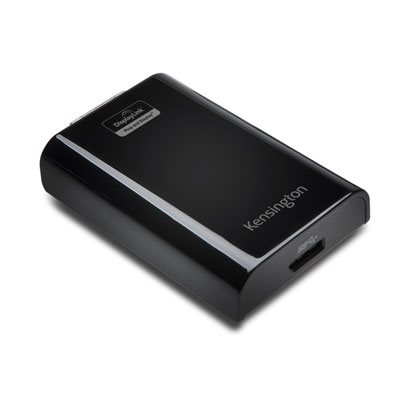 Free DockWorks™ Software and 2 Year Warranty
Enables the best connection, performance, and security from your Kensington dock.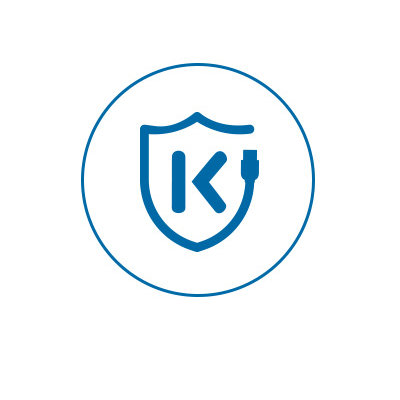 Business Pricing
Looking to place an order of 25 units or more for your organization? Simply fill out the form below, and someone on our team will be in contact shortly.

Specs
Connection Technology
USB 3.0 (DisplayLink)
Driverless
No
Additional Screen Outputs
2
Video Ports
HDMI, VGA, DVI-I
Maximum Resolution
2K
Operating System(s)
macOS, Windows
Number of USB Ports
6
USB Fast Charging
No
Docking Station Family
The Task Master
DockWorks
Yes
Best For
USB 3.0 Laptops, Ultrabooks & Windows Tablets and Monitors that support up to 2K
Compatibility
Windows 7 or above, macOS 10.14 or above
USB 2.0 Ports
4 x USB 2.0 Ports (back) up to 480Mbps
USB 3.0 Ports
2 x USB 3.0 Ports (front) supporting 5V/0.9A (does not support fast-charging)
Audio
1 x 3.5mm Microphone port (front), 1 x 3.5mm Headphone port (front)
Data Transfer Speeds
Supports up to 480Mbps on USB 2.0, and up to 5Gbps on USB 3.0
Ethernet Speed (Mbps)
1000, 100, 10
Maximum Resolution Supported
Single Monitor: 1920 x 1200 @ 60Hz and Dual Monitors: 2048 x 1152 @ 60Hz
Warranty
2 Years
Plug & Play
DisplayLink driver installation required
Security Slot Compatibility
Kensington Security Slot
Video Output
1 x HDMI v1.2, 1 x DVI-I (DVI-to-VGA and DVI-to-HDMI supported with included adapters)
4K Support
No
Packaging Depth
6.6 IN
Packaging Width
3.3 IN
Packaging Height
9.8 IN
CUSTOMER REVIEWS