Free Shipping.

All orders of $75 or more.
Payment Methods.

Visa, MasterCard, Paypal
Returns & Refunds.
You can return any item purchased within 30 days of the delivery date. Conditions Apply..
Choose Paypal Pay in 4 to pay for your purchase in interest-free instalments. *Conditions Apply.
WORK FROM HOME LIKE A PRO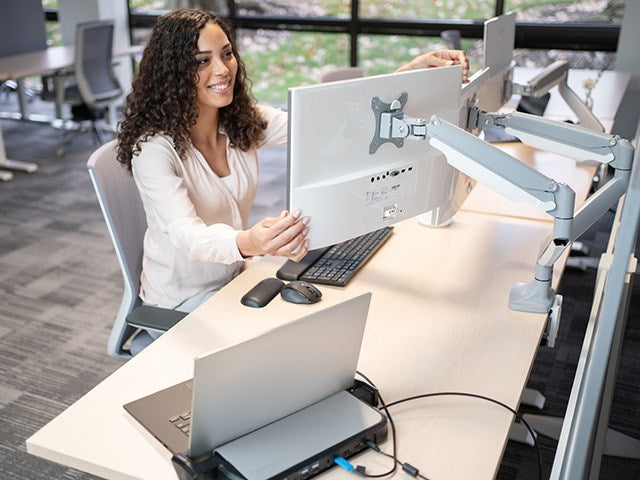 Choosing the right monitor arm
shouldn't be tough
Kensington makes it simple by spelling out how to choose the right arm for you based on where you'll use it, what features you're looking for and how easy the installation is on all of them.
SmartFit® Space-Saving's compact design makes it a perfect solution for the home office if your desk is small or shallow, or space is tight; it offers full adjustability even with your desk pressed against the wall. *Monitor Not Included
PROTECTIVE SCREENS
For devices of all sizes
WHAT OUR CUSTOMERS ARE SAYING
The Kensington Expert Mouse
The Kensington Expert Mouse Wired Trackball is a great tool to use for various applications on computers. I use mine with a Mac laptop and also switch it over to a Mac desktop machine. I have been using this trackball for many years. It is super reliable and feature-rich with the 4 buttons.
—Anthony D
Adelaide, Australia
BEST TRACKBALL OUT THERE. EVER.
I love this trackball, I've been using it for more than 15 years (well, I've replaced it once or twice). the ergonomics of it are perfect and the scroll ring is genius. I do use a wrist pad like the picture I've attached instead of their wrist rest, I think it gives better support. I also tried the wireless version, but I don't like how it goes to sleep and has a short lag before it moves the cursor.
—Heather T
Perth, Australia
Perfect Complement to Surface Go
This dock is worth its price. I tried a cheaper dock and it did not work so well. This dock will allow you to connect a 2nd monitor and also an external hard drive. No hiccups.
—Brenan C
Sydney, Australia
Well designed and great portability
I work from at a location that mostly has common spaces, where you sit down and set up wherever. There's no security issues that I'm aware of, but I subscribe to the better safe than sorry mindset. So this lock is perfect. The combo lock itself is smooth and clearly indicates each number, and whether it's aligned the way it needs to be for the open-combo to happen.
—James M
Hamilton, New Zealand