PRODUCT INFORMATION
Business Pricing
Specs
CUSTOMER REVIEWS
PRODUCT INFORMATION
Sleek, quiet, comfortable and stable, the Slim Type Wireless Keyboard has a contemporary design, ideal for the modern office. The ultra-slim design offers quiet low-profile keys for precise control, one-touch multi-media keys for convenience, integrated tilt stands for comfort and a stability-tested plug-and-play wireless nano receiver with 128-bit AES encryption for enhanced data protection and GDPR compliance. At just 0.66in high, the thin profile provides contemporary styling for your desktop in a matte black finish. Compatible with Windows and macOS, the Slim Type Wireless Keyboard delivers an ideal layout for the touch typist to increase efficiency and productivity.


At just 0.66in (16.7mm) high, this slim keyboard with low-profile keys offers precise control and contemporary styling for the modern office
Six rows of keys, a numeric keypad, and integrated 30° tilt stands provide the ideal layout and angle option for the everyday use of the touch typist
Stability-tested plug-and-play receiver delivers a stable connection for up to 33ft (10m) with 128-bit AES encryption
One-touch multimedia keys provide instant access to popular functions such as volume control, mute, sleep, email and default browser
Provides a convenient reminder to change or charge the keyboard batteries and smart battery management provides battery life up to 15 months
Seamlessly compatible with Windows 7, 8, 8.1, 10 and above, and macOS 10.6 and later
Sleek Profile with Premium Quiet Keys
One of the thinnest keyboards on the market – a perfect compliment to the modern office.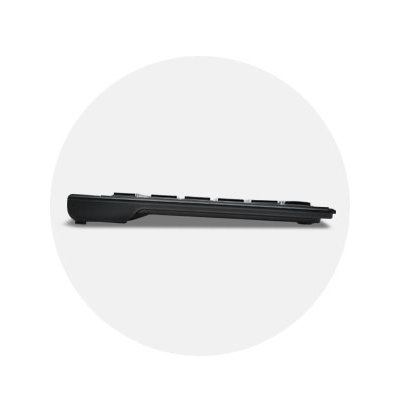 Comfort-Focused Design
Full-size keyboard includes a numeric keypad – an ideal layout for the touch typist. The integrated tilt stands provide typing comfort.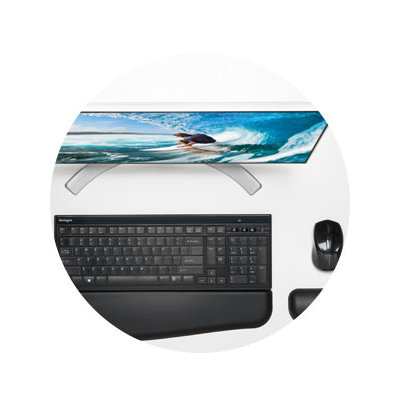 AES Encrypted Wireless Nano Receiver
Delivers a stable connection for up to 33 feet (10m) with 128-bit AES encryption.
Quick-Access Keys
For convenient shortcuts to functions performed often.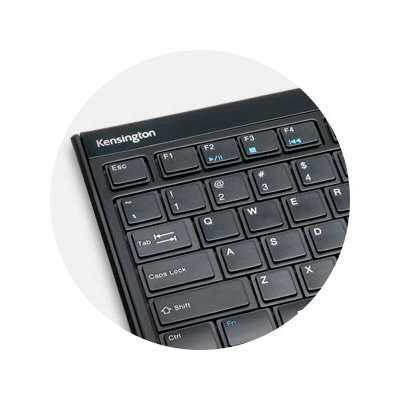 Low-Power LED Indicator
Provides visual confirmation of battery life so you are never left guessing.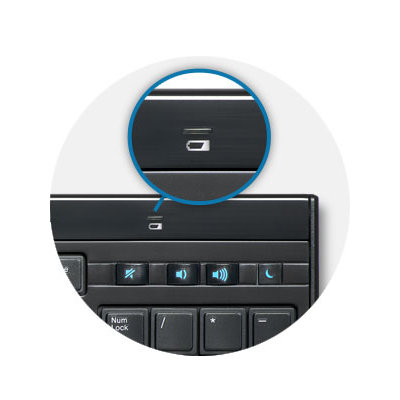 Universal Compatibility
Works seamlessly with Windows and macOS. *USB-C to USB-A connector is needed for newer Mac products.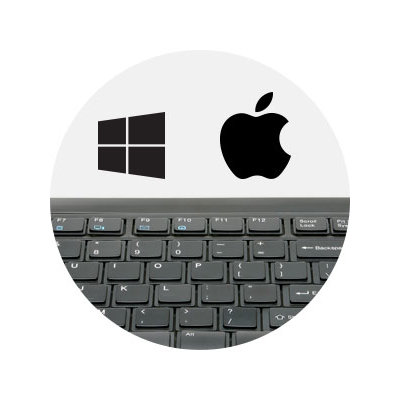 Business Pricing
Looking to place an order of 25 units or more for your organization? Simply fill out the form below, and someone on our team will be in contact shortly.

Specs
Operating System(s)
Chrome OS, macOS, Windows
Color
Black
Connectivity
Wireless, 2.4GHz USB Receiver
AES Encrypted?
Yes
Size
Full Size
Warranty
3 Years
Packaging Width
448mm (17.6in)
Packaging Length
182mm (7.2in)
Packaging Height
30mm (1.2in)
Packaging Weight
0.98kg (2.16lbs)