PRODUCT INFORMATION
Business Pricing
CUSTOMER REVIEWS
PRODUCT INFORMATION
If you're looking for an easy-to-use plug-and-play USB-C docking solution that offers speed, power and the flexibility to connect up to three monitors, the SD4849Pv USB-C Triple Video Driverless Docking Station is the ideal solution. No drivers, downloads or updates necessary - just plug it in and go. 100W Power Delivery keeps your laptop charged, while 10Gbps transfer speed ensures productivity is never compromised. With thirteen ports in all, you'll have the flexibility to add multiple devices without additional dongles or adapters.
Best For: Any USB-C laptop running Windows 10 or later
Connection Technology: USB-C
Power Delivery: Supports USB-C PD 3.0 (100W of laptop charging)
Compatibility: Windows 10 or later
No. of Monitors Supported: 3
Video Ports: 2 x HDMI, 1 x DP1.4++ and 1 x VGA
Maximum Resolution Supported: Single or Dual 4K @ 60Hz and Triple 4K at 30Hz when connected to a DP1.4 HBR3 device with DSC enabled. For VGA monitors, the maximum resolution supported in any combination is 1080p @ 60Hz
Plug & play installation, though installation of Kensington DockWorks™ software is recommended for the best connection, performance and security from your Kensington universal docking station
System Requirements: Driverless - no firmware or software required for setup
Warranty: 3 Years
Driverless, USB-C Connectivity with 100W Power Delivery (PD 3.0)
No driver installation, download or update required - just plug and play. 100W Power Delivery charges most laptops at maximum speed.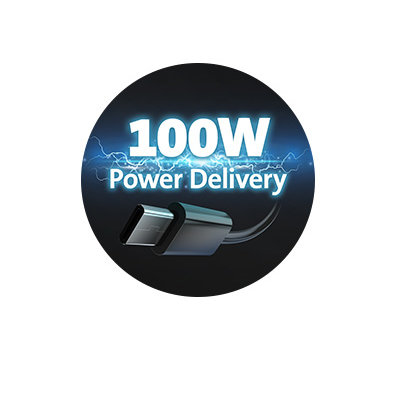 Universal Windows Compatibility
Connects seamlessly to any USB-C laptop running Windows 10 and above.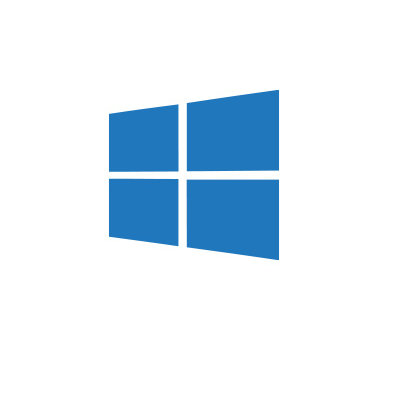 Numerous Video Ports
With 2 x HDMI 2.0 ports, 1 x DP1.4++ port and 1 x VGA port to support legacy monitors, select the right connections and resolutions for your needs. Minimum Resolution (DP1.2/HBR2): Single 4K @ 30Hz, Dual 1080p @ 60Hz, Triple 1600x900 @ 60Hz // Maximum Resolution (DP1.4/HBR3/DSC): Single 4K @ 60Hz, Dual 4K @ 60Hz, Triple 4K @ 30Hz. See manual or specifications table for more information.
10Gbps Data Transfer Speeds
Supporting ultra-fast and efficient data transfer, this docking station includes a 1m USB-C to USB-C 3.2 Gen2 cable for flexible placement.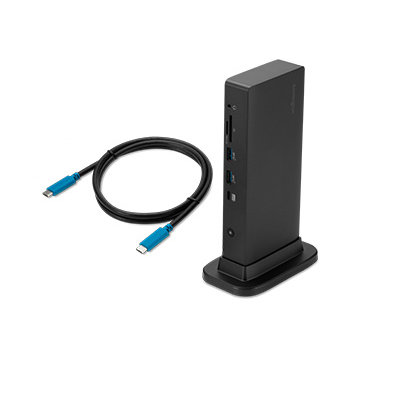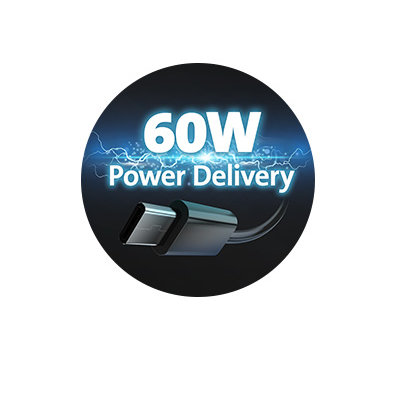 13-Port Design with 5 USB Ports
The front features 1 x USB-C 3.2 Gen2 port (up to 5V/1.5A/10Gbps), 2 x USB-A 3.2 Gen2 ports (up to 5V/0.9A/10Gbps), 1 x combo audio port and SD and Micro SD UHS-I 3.0 card readers. The rear features 2 x USB-A 2.0 ports (ideal for keyboards and mice), a Gigabit Ethernet port and 4 x video ports (2 x HDMI 2.0 ports, 1 x DP1.4++ port and 1 x VGA port).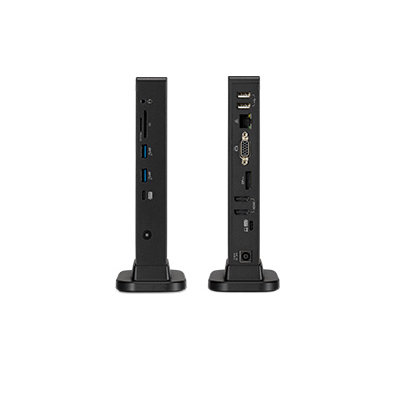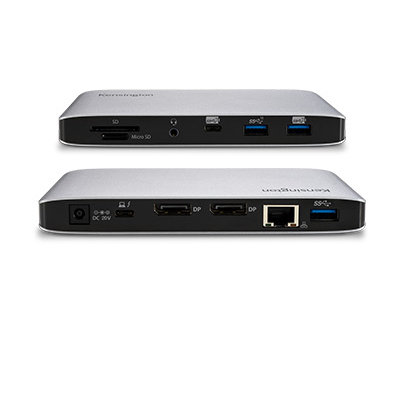 SD and Micro SD UHS-I 3.0 Card Readers
Transfer files fast, using the built-in SD and Micro SD card readers. No need for additional adapters and accessories to transfer hi-res photos and video footage.
Free Kensington DockWorks™ Software and Three-Year Warranty
DockWorks™ WiFi Auto-Switch guarantees the fastest, most reliable internet connection. MAC Address ID Pass-Through and Reset, together with Device Connection Monitoring give IT managers maximum network monitoring and visibility. A three-year warranty lets you rest assured knowing you're covered by Kensington.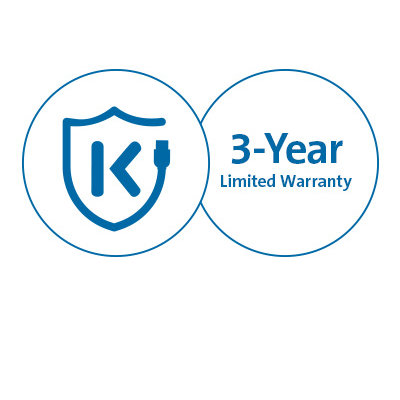 Business Pricing
Looking to place an order of 25 units or more for your organization? Simply fill out the form below, and someone on our team will be in contact shortly.